Souda is one of the biggest harbours inthe Mediterranean, servicing Chania and also used as a naval base. According to mythology , there had once been a musical contest over the bay of Souda between the Muses and the Sirens, in which the Muses predominated.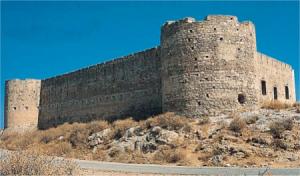 Then, the Sirens lost their wings which fell on the bay and formed the Lefkes isles while the nearby ancient town was named Aptera (without wings).The town of Souda was built 130 years ago. Today, one can visit the still existing Tourkish settles, the fish harbour of Kato Souda, on which you can find fresh fish and seafood in graphical restaurants, but most of all you can visit the Allies Cemetary of Vlites. Souda offers bank, library, Exhibitions room, bookshop, police station. Has many hotels and restaurants. You can get there by urban bus service from Agora Square or by car if you take the road to Rethimno.
Kalami is a small village 8 klms east of Souda, with a few houses and unique atmosphere. From here you can enjoy a gorgeous sunset drinking authentic greek coffee.
Kalyves is a seaside village on the south side of Suda bay, with a beautiful beach. The ancient city of Kissamos is supposed to be laying east of this village, near Aptera, that used to be a seaport. Now there is only a small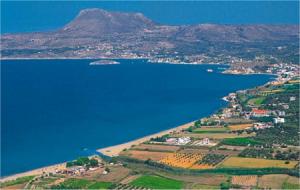 Venetian catle. The historians places the ancient city of Tanus between Kalyves and Almyris. Also the name of Kalyves (Huts) is connected with the landing of Arabs in 826 a.D. on the village area where they built their huts; since then this is the name of the village. A small river crosses the area. By its sides plenty hotels, restaurants and cofeeshops are built. Kalyves also offers medical centre, post office, telephon service, general tourist office, hotels, rooms for rent, restaurants and taverns with delicious fish. The beach extending for 500 m. just before the entrance of the village, is a golden sand with green blue waters. Kalybes is an ideal place for calm, relaxing vacations by the sea. Worth visiting are the villages Almyrida and Plaka near Kalyves.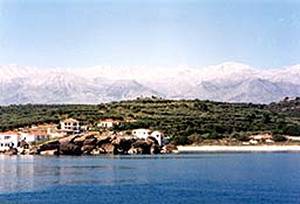 You can get to Kalyves by suburban bus service (KTEL) from Chania, or by car if you take the national road towards Rethimno, turning off at Kayives (20 km from Chania).
Almyrida is a small pictersque, settlement by the sea. Here you can see the ruins of a 11th century basilica, with mosaics. Two small sandy beaches extend to the east and to the west side of the settlement, with fairly shallow water, nice for children. The beaches are quite narrow and this is a reason some times to feel crowded. Lovely fish-taverns serving fresh fish and sea-food stand by the bay of Almyrida.