Ports
Crete has two of the most important ports of the East Mediterranean Sea, the port of Heraklion and the port of Chania (Souda). The island is connected with mainland Greece and quite a few of the Aegean islands, Europe and the rest of the world with a large number of passenger ships (ferry-boats) and freighter ships. The two ports play a significant role in effectively supporting the efforts of Crete to be an important commercial center in the Mediterranean. At the Heraklion port a project to improve and extend the facilities infrastructure has already begun. There are also two smaller ports in Rethymno and in Agios Nikolaos.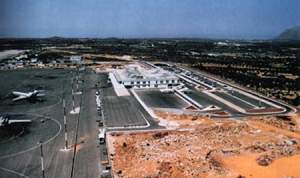 Airports
There are two international airports operating in the island in Heraklion and in Chania. The island is connected with most of the airports in Greece, many European countries and Cyprus, with regular or charter flights. Companies that operate regularly on these airports are Olympic Airways, Aegean-Cronus Airlines and many other, connecting with charters Chania or Heraklion with many European Countries.
Roads
The main road in Crete is the national road that follows the north seashore of the island from East to West. This is a fairly good road that handles most of the traffic of the island. The rest of the roads range from smaller asphalt roads to all kinds of dirt roads.