Omalos is a plateau with an altitude of 1080 meters, famous for its liberation struggles of the island.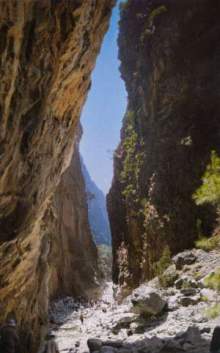 It has the shape of an irregular circle and is surrounded by steep, aweinspiring mountains. The plateau due to its natural fortification, has always been a refuge during all the important revolutions of Crete. At the entrance of the plateau there are small stone houses occupied only during the summer months. On the south part of the plateau there is Xiloskalo, the starting point for the crossing of the Samaria gorge. Worth visiting on the hill of Agios Panteleimonas (St Panteleimonas) is the grave of Hatzimihali Giannari, leader of 1866, 1878 and 1897 revolutions against Turks. You can get there by suburban bus service (KTEL) from Chania or by car if you take the road to Omalos.
Samaria Gorge is the popular and perhaps the most beautiful gorge in Europe. It is the biggest and narrowest gorge, since its width being at one point is less than 2,5 meters and height of the stone walls reach 600 meters in many points. To cross the gorge, one needs to walk for about 5 hours (18 kms length). The natural beauty overrides any feeling of exhaustion during the walk. Its crossing is only possible during the summer months from beginning of May since October.
Agia Roumeli village is the exit point of Samaria gorge. The present day, village of Agia Roumeli is built on the ancient town of Tarra, while the old village is situated one kilometer from the sea. Tarra is mentioned by many ancient writers as a small but strong and independent town. It used to have its own currency coins on one side depicting the Cretan mountain goat and an arrow and on the other side a bee.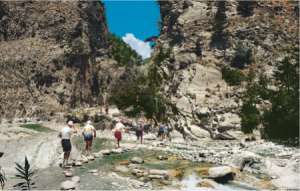 Tarra together with the other important towns of Northwestern Crete, Elyro and Yrtakina, had made a nomismatical treaty. At the present on the beach, there are hotels, rooms for rent and taverns. Agia Roumeli is connected with Sfakia, Loutro and Sougia, Paleochora only by ship, from where you can return to Chania. If you do not wish to cross all of the distance of Samaria gorge to approach Agia Roumeli, you can do it by sea from Sfakia, Sougia or Paleochora by motorboat.