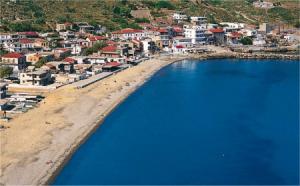 A village with a beautiful beach, situated on the edge of the plain of Chania. It has hotels and taverns which serve "Kakavia" a local special fish dish. You can get to Kolymbari by suburban bus service (KTEL) from Chania or by car if you take the road to Kissamos.
Worth visiting:
One kilometer north of the village there is the fortified monastery of Gonias, which was founded in 1618. The main body of the monastery, with dome, vestibule and chapels surrounds an ample courtyard. Around it, are the cells of the monks, the abbey, the dining room and the store-room. In the monastery there is an important collection of post-Byzantine icons of superb artistry. In the treasury of the monastery we can see relics of Saints, old silver crosses, precious high-priests vestiments and a silver censer, a gift from Sultan Abdul Aziz. Next to the monastery is also the headquarter of the Orthodox Academy of Crete.
By boat you can visit the North-Eastern edge of Rodopou peninsula where one can see the ruins of the ancient town called Dyktina and the 2nd century B.C. temple, dedicated to the Goddess Artemis.