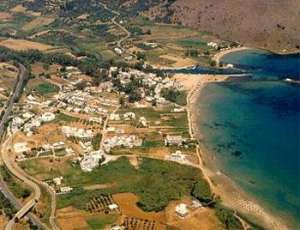 Georgioupolis is a tourist, seaside village built in a plush green area at the foot of the Almiros river. The village was named after Prince George, the supreme commissioner of Crete. The beach has nice sand and is about 10 km long. Many hotels have been built on it. Be very careful when you swim because the currents at many points are very strong. If you get carried away, don't panic, the current moves parallel to the beach and not out to sea. Just be careful and watch the children closely.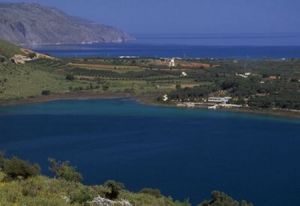 Kournas Lake
Worth visiting at 5 km inwards, visitors can see the sole lake of Crete, called Kournas lake (about 65 hectares size). The lake is found among hills and rowing is very popular in the lake. The ancient name of the lake was Korissia Athena and it is said that there was once a sanctuary of the same name, although thereis no proof at this present time.
You can get to Georgioupolis by Suburban bus service from Chania or if you take the national road towards Rethimno (38 km South-East of Chania).