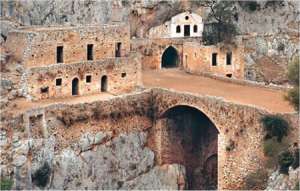 East of Chania and at a distance of barely 15 km, following the road towards the International airport, is the peninsula called Kiamon in the old days and Akrotiri today. It is a historic peninsula associated with the liberation struggles of Crete. Akrotiri shapes the bay of Suda, one of the biggest natural harbours in Greece.
Worth visiting:
The Venizelos graves, 6 km from Chania, with a breathtaking view of the town
The monastery of Agia Triada, 16 km from Chania. One of the few monasteries in Crete where monastic life is practised.
The monastery of Gouverneto, 20 km from Chania, which has beautiful embossed decorations in Venetian style. The liturgies of Holy Week are atmospheric. Older than the monastery of Agia Triada, with old murals, it gives a feeling of seclusion and isolation.
The beaches of Akrotiri. There are many beautiful beaches, such as Stavros, Kalathas, Tersanas, Loutraki, Marathi.

Kalathas is a small natural bay on the edge of a ravine, with a quiet, sandy beach. Also visitors can swim to the islet which is very close by. The beach can be crowded in summer and at weekends. Very shallow and ideal for children.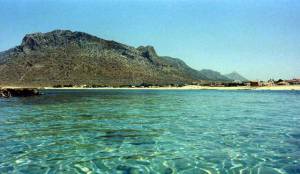 Stavros is another beautiful beach. One of the bays of the area gives the feeling of a lake because of its small size. In this area you can find an abundance of fish. At this place filmed the famous Alexis Zorbas and Stavros had its moment of fame.
Loutraki, is a tiny beach with extremely crystal clear water.
Marathi, discovered a few years ago by the inhabitants of Chania. It gets very crowded at weekends. Nice sandy beach with quite warm shallow water.